Natalie Goldberg
Natalie Goldberg would like to welcome you
to her official web site.
AVAILABLE NOW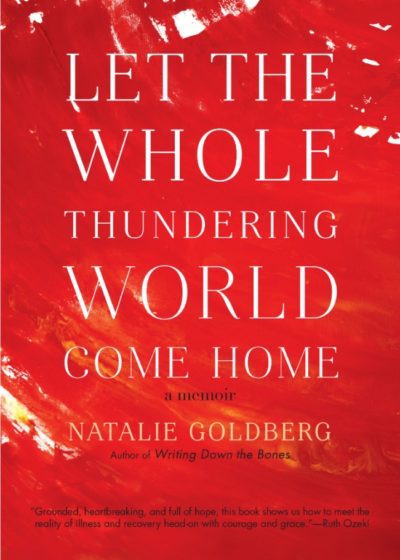 When longtime Zen practitioner and world-renowned writing teacher Natalie Goldberg learns that she has a life-threatening illness, she is plunged into the challenging realm of hospitals, physicians, unfamiliar medical treatments, and the intense reality of her own impermanence. In navigating this foreign landscape, Natalie illuminates a pathway through illness that is grounded in the fierce commitment to embrace the suffering directly. In the middle of this, her partner discovers that she too has cancer. The cancer twins, as Natalie calls them, must together and apart grapple with survival, love, and the rawness of human connection. This book is a moving meditation on living a genuine life in full bloom.
ORDER your copy from your local bookstore or online booksellers: Barnes and Noble, Powells.com, Indiebound.org, Amazon, Shambhala.com, ISBN: 9781611805673.
Please feel free to share your thoughts on this and Natalie's other books in a review on Amazon and Goodreads.
---
THE BOOK SHOW by JOE DONAHUE
World-renowned writing teacher Natalie Goldberg's new memoir, "Let the Whole Thundering World Come Home" shares her experience with cancer grounded in her practice of writing and Zen. It is a reflection on being in love with your life even when life brings illness.


---
PRAISE FOR LET THE WHOLE THUNDERING WORLD COME HOME:
"Grounded, heartbreaking, and full of hope, Let the Whole Thundering World Come Homeshows us how to meet the reality of illness and recovery head-on with courage and grace."—Ruth Ozeki, author of A Tale for the Time Being
"This is the book that didn't exist: an unflinchingly gorgeous exploration of being sick while being very much alive. Let the Whole Thundering World Come Home is both generous and wise, glorious proof that our darkest moments are also our most illuminating, that being vulnerable is an act of true courage, and that often we are most present and awake when our future is uncertain. This book is both a comfort and a wonder. I couldn't put it down."—Katie Arnold, author of Running Home
"This riveting and deeply honest book is for all of us. It opens up the road of diagnosis, dying, and life in a way no other book I have read does. It is a powerful narrative of truth and rawness that will touch and teach us."—Joan Halifax, PhD; abbot, Upaya Zen Center; founder of the Project on Being with Dying; author of Being with Dyingand Standing at the Edge
"Fragile, bare, and enormous, Let the Whole Thundering World Come Homemasterfully prepares us, young and old, with medical wisdom, love, and insight for our inevitable moments of facing death."—Kazuaki Tanahashi, author of Painting Peace
"With alert stillness infused with intention, Natalie Goldberg meets mortality head-on. Beautifully written, this is a book about love, loss, and down-to-the-marrow courage."—Wendy Johnson, author of Gardening at the Dragon's Gate